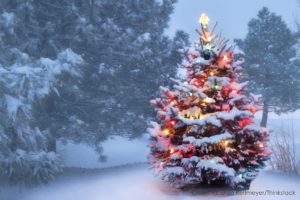 As you might already know, Deep Creek Lake in Maryland is a prime getaway destination year-round.  At this point in the year, you're probably deciding how you're going to spend the winter holiday season.  While you may want to spend Christmas at home or with your entire extend family, the weeks leading up to the holiday provide the perfect opportunity for you to take a trip and enjoy everything Deep Creek Lake has to offer in the winter.  Along with classic cold weather activities, the area surrounding our McHenry, MD bed and breakfast plays host to several special holiday events.  Popular in many other places in Maryland such as Baltimore, the Festival of Trees MD is a great way to embrace the magic of the season with decorated trees, crafts, food, and general Christmas revelry. Our local version of the Festival of Trees MD in Garrett County is a superb way to kick off your festive activities while you stay with us.  This year, the event takes place November 28th-29th at the Garrett County Fairgrounds.
Festival of Trees MD Edition: The Garrett County Event
While you may be more familiar with the Festival of Trees MD event that takes place every year in Baltimore, our local event has all the magic and fun that the festival in the big city has.  The Festival of Trees, Garrett County, MD  is now in its seventh year and features beautifully decorated trees, wreaths, centerpieces and gingerbread houses in an exhibition and tons of fun activities. Each year the event has a theme and this year the immensely popular Disney Film Frozen will inspire participants.
Events activities include: Breakfast with Santa, Mrs. Claus' Kitchen, a silent auction, gifts crafted by local artisans, a make your own sundae bar with ice cream from Lakeside Creamery, and the finale is a live auction! There is also entertainment from SuGo Robotics, Brenda's Dance Studio, Jessica's Dance Creations, and Soul Shine Band.
The Festival of Trees MD event  in Garrett County will benefit the Dove Center, which "provides safety, advocacy, and counseling to indivuals whose lives have been shattered by domestic violence and/or sexual assault, and strives to expand public awareness of those issues, so you'll be supporting a wonderful cause while you get into the spirit of the season.
Other Ways to Celebrate the Season on Deep Creek Lake
The joyous holiday atmosphere in Deep Creek Lake doesn't stop at the Garrett County Festival of Trees MD.  You can celebrate the benefits of the season by taking a horse-drawn sleigh ride, or participating in one of our other great Deep Creek Lake winter activities (blog).  You can also get your fill of Christmas decor and gifts at Christmas Chalet.
Complete Your Christmas Celebrations at Lake Pointe Inn
When you're looking for accommodations for when you visit the Garrett County Festival of Trees MD, there is no better option than the Lake Pointe Inn.  Our extremely comfortable rooms and suites feature fireplaces, deep spa tubs, Arts and Crafts decor and furnishings, including William Morris fabric and Mission-Style furniture.  Each of our ten rooms have a private bath, and select relaxing and rooms and suites feature luxurious amenities like fireplaces, lake views, and sitting areas among others. And our delicious breakfast and personalized service from our staff, will prep you for experiencing the Festival of Trees MD in Garrett County. WE can't wait to have you with us soon!
—