Breakfast At Lake Pointe Inn
We like choices. Our guests do too. Chef Scott has fashioned an assortment of gourmet entrees that give you a reason to get up in the morning. Whether gluten-free or vegan, light fare or hearty, we have a delicious option for you. Starting with our Lake Pointe Inn breakfast blend coffee or a choice of over a dozen loose leaf teas, you will enjoy a multi-course breakfast that will be a wonderful start to your day.
We start with a baked course – Banana Bread is our specialty but we like to mix it up a bit seasonally. Regardless, you will love our fresh, hot, baked course.
Fruit course– we love fruit. We may serve it solo or we might combine it with the baked course. Sometimes we serve our fruit drunk* and sometimes we serve it with yogurt.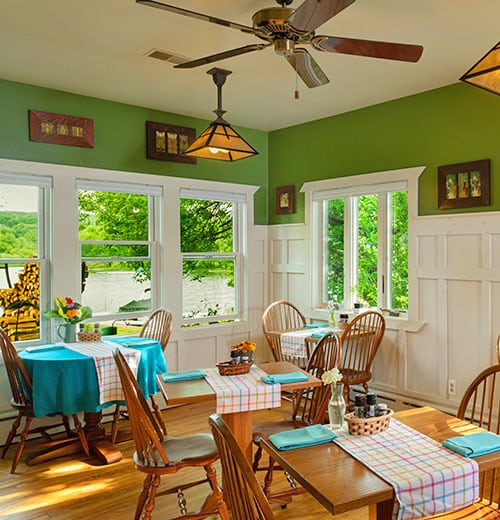 Once your tummy is warmed up you will be able to choose from our distinctive and delicious breakfast entrees that may include**
Love Toast (of course there's a story behind this but you have to ask us in person)
This is French toast made in our Dutch oven baked bread – usually served with sausage
Sourdough Waffle (Vegan)
Our longtime sourdough starter (going back to Scott and Lenina's first date! Another story to ask us about) made into a crispy waffle. Oh, and it's only vegan if served sans the sausage.
All American
Eggs, Toast, Sausage. LPI special Potatoes – traditional, but a guest favorite. 
Avocado Toast
Whole Wheat Toast with Avocado, Tomato, Lime, Egg and LPI special potatoes
Granola
Our homemade blend of nuts, grains, and berries
Porridge
LPI special blend of oats and other grains, brown sugar, banana, blue berries
Frittata
Bacon, egg, and cheese or veggie. Be forewarned, guests have stayed a week and not varied from this breakfast, so you may not want to order this on the first morning.
Other items that may make an appearance on very special weekends:
Pulled pork tostadas
Italian tomatoes and eggs
Polenta Bowl 
*Wait – did you think we meant that we were drunk? Most days, it's just brandy soaked pears and the like, but if you've met Lenina, then you never know.
****Not all of these will be available every day however, this is a list of items we rotate based upon seasonal produce and the chef's mood.