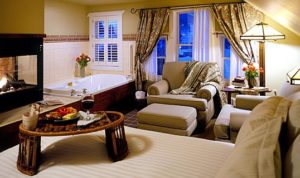 When planning your trip to Deep Creek Lake, your choice in accommodations makes a big impact.  Some people automatically choose hotels without considering staying at a bed and breakfast.  This is due to the fact that many travelers don't really know what a bed and breakfast is and what to expect when they stay at one. Either they have misconceptions of what the experience will be like or are just unaware of the benefits. When it comes to the debate of bed and breakfast vs hotel, guests of Lake Pointe Inn know that bed and breakfasts come out on top.
Not Your Standard Room
Hotel rooms are usually pretty standard issue and uniform.  You can generally expect slight variations on the same room throughout the hotel.  Bed and breakfast rooms are each thoughtfully decorated and furnished in styles that complement the inn's surroundings.  Lake Pointe Inn has a selection of rooms and suites appointed in the Arts and Crafts style.  While they all feature Mission style furniture and touches like William Morris & Co. fabrics, each has its own individual personality, so you can have a unique experience each time you stay. Our rooms all have private baths, disproving the popular belief that bed and breakfasts all have communal bathrooms.
Local Experts Top Concierge Services
The innkeepers and staff members at bed and breakfasts are usually longtime or lifetime residents of their areas, so they know the best local restaurants, activities and attractions to recommend. A hotel may have a concierge service that will provide suggestions, but that often comes with a fee.  Our staff wants you to experience the best parts of Deep Creek Lake, so we're always more than happy to give you suggestions.
A Better Class of Breakfast
It should be no surprise that one of the biggest benefits of staying at a bed and breakfast is in fact breakfast – it's in the name after all!  While you can get a pretty standard continental breakfast at many chain hotels, the morning meal at a bed and breakfast is something truly special. Homemade hot entrees, baked goods and fresh squeezed orange juice and coffee are all available to guests of Lake Pointe Inn  each morning. You can also choose the options of cereal and homemade granolas or a continental breakfast if you plan to head out early.  Plus, we have complementary beverages, fresh baked goods, popcorn and fruit available all day in the dining room.
Luxury Amenities
Bed and breakfasts have amenities that are usually only found at expensive luxury hotels.  The highest quality linens, towels, luxurious bath amenities and special Lake Pointe Inn robes all await you in your perfect room.  Select rooms also feature steam showers and spa tubs. Our Select Registry property prides itself on providing the best in Deep Creek Lake accommodations with the modern amenities you deserve.
Personalized Service That Adds Value
The knowledge and experience of the innkeepers and staff at inns make the bed and breakfast vs hotel decision even easier.  If you want to be taken care of, go for a bed and breakfast.  The level of attention you get at a B&B adds even more value to your stay. Also, despite the widely held notion that bed and breakfasts are more expensive than hotels, when you factor in what is included in the stay, bed and breakfasts come out ahead where value is concerned.
When you add it all up, bed and breakfasts offer better service at a better value. For a visual representation of all the benefits of staying at a bed and breakfast vs. hotel, click here.  Now that you have all the facts, we know your the decision between bed and breakfast vs hotel will be a no-brainer!  Book your stay at Lake Pointe Inn to get the firsthand experience today!