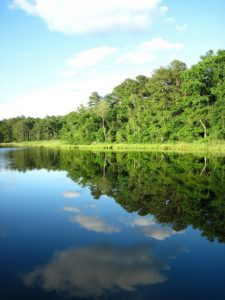 Deep Creek Lake offers a wide variety of activities for visitors to take part in, but some may be unaware of the area's history.  Deep Creek Lake history is important to the area as the lake was developed to provide a service for the community.  Lake Pointe Inn is proud to call the region home, where picturesque waterfront views combine with good times to create the ideal vacation spot. We're sure you'll see some of what makes our area special after this Deep Creek Lake history lesson.
Although the lake has great natural beauty and is home to ecosystems for varied flora and fauna, Deep Creek Lake is actually a manmade body of water. The lake was constructed in the 1920s in order to provide power for the area.  The Deep Creek Station hydroelectric project began in 1923 by the Youghiogheny Hydroelectric Company.  Trees were cleared from the land in the valley of Deep Creek with the logs being sent to sawmills and smaller branches burned in large bonfires.  The lake was formed by the construction of a small dam across Deep Creek.  After the dam was plugged, it took a few months for the lake to fill. The power station became fully operational in 1928.  And although new sources of power have come to the area, the Deep Creek Lake generator still operates today.  Along with generating power, the 20 MW station helps with lake level management, white water recreation and fisheries support.
What began as a facility to provide hydroelectric power for the surrounding area has become one of the most popular recreational and tourist areas in western Maryland.  After being managed by various entities throughout its history, Deep Creek is now owned and managed by the Maryland Department of Natural Resources.  Deep Creek Lake State Park  provides the public with access to the lake, including boat launches, hiking trails and swimming beaches. The lake is well suited for many activities like boating and water sports.  And the stumps left from the clearing of the valley forest have created a nice habitat for several species of fish, great for those looking to do some fishing.  The mountains surrounding Deep Creek Lake are also a perfect setting for hiking, picnicking, skiing, golf and more.
Now that you know a little bit about Deep Creek Lake history, you'll want to plan a trip to enjoy all that this man made wonder has to offer.  Lake Pointe Inn is the perfect place to enjoy Deep Creek Lake and its many activities.  Our McHenry MD bed and breakfast has rooms and suites decorated and furnished in the Arts and Crafts style, with each room featuring a private bath and a gas fireplace.  And the inn's amenities will make your visit the special touch.   Take an afternoon ride on our pontoon boat or take in the views of Deep Creek Lake from the wrap around porch.  Your stay includes a full breakfast, so your days exploring Deep Creek Lake history will have a delicious start. When looking to get the most out of your time at Deep Creek Lake, look no further than Lake Pointe Inn.
Photo courtesy U.S. Army Corps of Engineers Norfolk District.