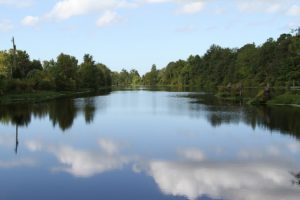 Lakes in Maryland vary in size, from 50 acres up to 3,900 acres. Over 100 lakes can be found in Maryland, and most of them are used for recreation. The largest is Deep Creek Lake, which covers nearly 3,900 acres. This beautiful lake is located near Oakland, Garrett County, and is perfect for water sports or just relaxing on the banks. For a truly memorable summer vacation we suggest you break out of your routine and head to Deep Creek Lake to truly relax and rejuvenate. Come stay with us at Lake Pointe Inn and find out why, out of all the lakes in Maryland, Deep Creek Lake is the best.
Deep Creek Lake, the largest inland body of water in Maryland, offers visitors 69 miles of shoreline to discover and enjoy. With the warm weather, you'll find locals and vacationers alike out on the water. Lake Pointe Inn's own pontoon boat, "Tight Squeeze", which makes trips each evening, provides the perfect venue in which to take in the beauty of the lake's shoreline. The Inn also offers kayaks and canoes for guests to use if you'd rather explore on your own.
The options for water sports are endless! You can plan to spend the day or week on the lake by boating, water skiing, paddle boarding, sailing, jet skiing, swimming, kayaking, canoeing and white water rafting. Try the newest craze in water sports with Wisp's Paddleboard rentals, a combination of kayaking and surfing. Tours are given daily by the friendly staff at Wisp. Enjoy the glistening water and rays of sunshine while exploring the Lake on a paddleboard. Take the classic route and rent a canoe for the day! Paddle the calm clear water and relish in the picturesque scenery of the Deep Creek Lake. Kayaking is also a great way to discover all that the lake has to offer on your own.
If you are looking for more of a thrill, whitewater rafting in Western Maryland will give you the adrenalin rush you want!  The world's only mountaintop whitewater course is located just a few minutes from the Wisp resort. If you don't enjoy white water rafting, walk the one-mile trail surrounding the course and watch the excitement from the solid ground.
Deep Creek Lake State Park offers visitors one mile of shoreline along Deep Creek Lake where they can participate in fishing, swimming or just relaxing. The white-sandy beach is the perfect place for families to picnic or to fly a kite. The park also offers a variety of hiking trails ranging in difficulty, which is a great way to view the entire lake!
To complete your Deep Creek Lake experience, stay at our local bed and breakfast. Our rooms are all decorated in the Arts and Crafts style, which complements the beauty of the rustic natural surroundings. Plus, your stay includes a scrumptious breakfast each morning so you'll be ready for the adventures that await you. And nothing beats sitting in a rocking chair on our covered porch and experiencing the beautiful weather in the summertime. Come to Lake Pointe Inn and we're sure that out of all the lakes in Maryland, Deep Creek Lake will become one your favorite. See you soon!
Photo courtesy U.S. Army Corps of Engineers Norfolk District.