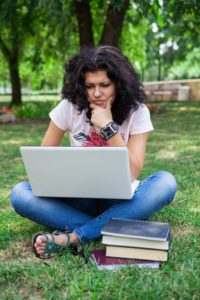 When you visit our Deep Creek Lake bed and breakfast, Lake Pointe Inn,  you might want to explore McHenry's Garrett College.  Known for its unique Adventure Sports degree, Garrett College is a two year college that was established as Garrett Community College in 1967.  Along with offering several associate's degree programs in various fields, Garrett College provides the public with programs at the Community Aquatic & Recreation Complex and the Adventuresports Institute.  This short guide will let you know more about Garrett College near Deep Creek Lake.
Garrett College opened its doors in 1971 as Garrett Community College.  The school took the name Garrett College in 2002.  The main campus of the college is in McHenry, MD with outreach campuses in Grantsville, Accident and Oakland.  There are 900 students attending Garrett College in credit-bearing programs, with 600 being full time students.  Associate Degrees are available in the fields of Applied Science, Arts, Teaching and Science in Engineering. Many students begin their studies at Garrett College and then transfer to a four-year program at another school.  In addition to these Associate programs there are many certificate programs in a variety of areas.
One of the popular programs of study is Adventure Sports Management, and the Adventuresports Institute (ASI)  at Garrett College facilitates learning for students.  Established in 1992, ASI is wholly funded and operated by Garrett College. Students learn the fundamentals of Climbing, Kayaking, Back Country Living Skills and Cross Country Skiing. ASI also offers a program for local youth.  Transition Age Youth Adventures Sports is a program with the mission of providing Garrett County youth "with meaningful experiences in self discovery and growth using adventure sport activities to foster cooperation, respect, trust, honesty and compassion." For more information on the Adventuresports Institute, click here.
Garrett College also has a community recreation and fitness complex that is open to the public.  Residents can purchase memberships and visitors can take advantage of certain programs.  The Community Aquatic & Recreation Complex has a full size competition pool, warm water pool, fitness center and gymnasium.  Courses offered include swimming classes, spinning, Barre Fitness,  traditional  Zumba and Aqua Zumba in the pool.  To learn more about the Community Aquatic & Recreation Complex and check out available classes, click here.
After exploring Garrett College, there is no better place to stay than a local Deep Creek Lake bed and breakfast.  Lake Pointe Inn has three suites and seven rooms, each with its own private bath and gas fireplace.  Decorated in the Arts and Crafts style, our rooms will give you the opportunity to relax and let your worries melt away.  Guests will enjoy fine amenities like steam showers and spa tubs in some rooms.   Lake Pointe Inn is the ideal place to stay when discovering all that the Deep Creek Lake area has to offer.  A stay at our Deep Creek bed and breakfast is sure to make your trip one to remember.  Book your stay today and start planning a truly special vacation to Deep Creek Lake.
Image courtesy CollegeDegrees360.