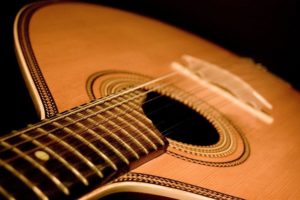 During your stay at Lake Pointe Inn, you'll discover that there is more to love about Deep Creek Lake than the beautiful scenery and the activities on the water (although there is a lot to love there!).  Thanks to the Garrett Lakes Arts Festival, the area has a growing artistic culture that visitors can enjoy.  Garrett Lakes Arts Festival is bringing performing arts and arts education to the residents and visitors to enjoy and fostering awareness and appreciation for the arts in the area. Read on to find out more about the Garrett Lakes Arts Festival and the benefits their programs are bringing to Garrett County.
Garrett Lakes Arts Festival is a non-profit organization with a mission to "enrich [the] community with high-quality performing arts and arts education." The festival has a season that begins in March and Ends in October.  The offices of the Garrett Lakes Arts Festival as well as many of the events are located on the campus of Garrett College in McHenry.  The festival is the largest arts and arts education organization in the area and serves Pennsylvania and West Virginia as well as Maryland.
Garrett Lakes Arts Festival aims to bring high-quality artists and performers to the area to enrich the artistic environment for residents and visitors.  Nationally and recognized artistic professionals come from many different locations to give performances or classes in the fields of dance, music and theater. Another chief aim is in arts education.  Through the festival, students ranging from elementary to high school gain exposure to professional artists.  Therefore, a greater appreciation for the visual and performing arts is instilled in them.
A yearly feature of Garrett Lakes Arts Festival are Chautauqua Performances.  The Maryland Humanities invites you to come hear famous historical figures speak about their lives in a free event spanning six locations.  This year's figures include Georgia O'Keeffe, Emily Dickinson and Frida Kahlo.  Actors and scholars give a short performance and then interact with the audience in character.  Also on the schedule this year at Garrett Lakes Arts Fetival are performances by Cathy Fink and Marcy Marxer, Ann Fontanella, the Classic Jazz Quintet and a staging of War Bonds: The Songs and Letters of World War II. To purchase tickets for one of the Garrett Lakes Arts Festival performances, click here.
When you start planning which events to participate in during the Garrett Lakes Arts Festival, don't forget to book your stay at a local Garrett County bed and breakfast.  Lake Pointe Inn is ideally located in McHenry, right on Deep Creek Lake. Our inn's common areas and guest rooms are decorated in the Arts and Crafts Style, so you won't just get art education at Garrett Lakes Arts Festival, you'll experience it as you simply enjoy your getaway!  You can expect Mission style furniture with clean lines, natural motifs and finishes, and beautifully patterned fabrics and more from William Morris & Co. All of our rooms and suites have private baths, with some rooms offering spa tubs and steam showers. Of course, your stay includes a full breakfast each morning with many delicious options to choose from.  Come to Lake Pointe Inn and make your visit to the Garrett Lakes Arts Festival a truly memorable Deep Creek Lake experience.
Photo courtesy Feliciano Guimarães.