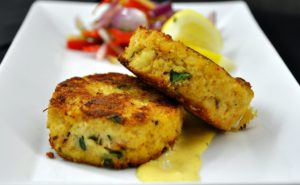 When you stay at our Deep Creek bed and breakfast, Lake Pointe Inn, you'll be close to a variety of restaurants in Deep Creek MD.  From sandwiches and pizza to more formal options, restaurants in Deep Creek MD have something for everyone.  Many of the restaurants listed below are lakefront, giving you a beautiful view to enjoy while dining.  We hope our guide to restaurants in Deep Creek MD will be helpful to you when planning your trip.
Savage River Lodge's restaurant offers fresh gourmet American cuisine. With a menu that includes gluten free and vegan options, Savage River is the top destination for fine dining in Garrett County.  The gourmet menu includes selections of wild game, seafood and a signature Savage River Lodge Meatloaf along with a nice wine list.
Ace's Run Restaurant & Pub
Ace's run offers simple yet creative dishes made with fresh ingredients.   Come by every Wednesday beginning at 4-10 pm for pasta night and watch your custom pasta dish be created in front of you.  Enjoy lakefront dining here or take your food out.
Pine Lodge Steakhouse
Diners rave about the quality of the crab cakes and crab soup at the Pine Lodge Steakhouse.  Offering perfectly cooked and seasoned steaks as well as seafood, Pine Lodge is one of the restaurants in Deep Creek MD that visitors return to time and time again.
Mountain State Brewing Co.
This microbrewery is one of the best restaurants in Deep Creek MD to enjoy good beer and food in a comfortable atmosphere.  The menu includes wood fired pizza, salads and sandwiches as well as a children's menu.  And the whole family can enjoy the homemade root beer. For information on events and specials click here.
Archie's Barbeque
If you're looking for great quality barbecued and smoked meat, then Archie's is the right place for you.  Specializing in barbecued ribs, pork, chicken and turkey alongside homemade sides, you won't leave Archie's hungry.
Canoe on the Run
Canoe on the Run is a great place to stop in for lunch.  Stellar sandwiches, soups and salads are on the menu , and you can enjoy sunny weather on the front porch.
Moonshadow Cafe
Moonshadow Cafe in Accident MD is the place to go for beers and farm fresh food.  With  a large selection of draft and bottled beer, Moonshadow is a great place to hang out and enjoy live music and art.
Deer Park Inn
Deer Park Inn's restaurant has a romantic dining room and French-style service, perfect for date night.  Chef Pascal's menu changes seasonally to take advantage fresh ingredients.
Dutch's at Silver Tree
This cozy restaurant in Oakland is a gem offering seafood, steaks and a great selection of drinks.  Dutch's also has lake views from a patio and an outdoor bar.
Cornish Manor Restuarant
Cornish Manor is located in Oakland in a Victorian era home.  The menu includes European and American inspired dishes prepared with fresh seafood, meat and produce.
Brenda's Pizzeria & Trader's Coffee House
This location at Trader's Landing on Deep Creek Lake offers two restaurants in one place. Upstairs is a bistro featuring Italian-style favorites pizza, calzones and stromboli. Downstairs is a coffee shop offering coffee, smoothies, and salads along with delicious pastries and baked goods.
Lakeside Creamery
To satisfy your desert craving at one of the restaurants in Deep Creek MD, look no further than Lakeside Creamery in Oakland.  A myriad of ice cream and sherbet flavors are made with fresh local ingredients here, making it a favorite to locals and visitors alike.
DC's Bar and Restaurant at Wisp Resort
This restaurant and bar at Wisp Resort has a selection of menu items with American, Japanese and Italian influences.  Along with options of pasta, salads, burgers, sandwiches, and steaks, DC's offers a sushi menu. Great for lunch or dinner after a day enjoying Wisp.
No matter where you decide to eat, staying at our Deep Creek Lake bed and breakfast is a choice you will not regret! Lake Pointe Inn has a variety of rooms and suites guaranteed to make your visit to Deep Creek Lake a special and memorable occasion.  Our rooms each have private baths, gas fireplaces and furnishings in the Arts and Crafts style.  Your stay also includes a gourmet breakfast with freshly squeezed orange juice to get your vacation days off to the right start!
Photo courtesy Richard Fraley.