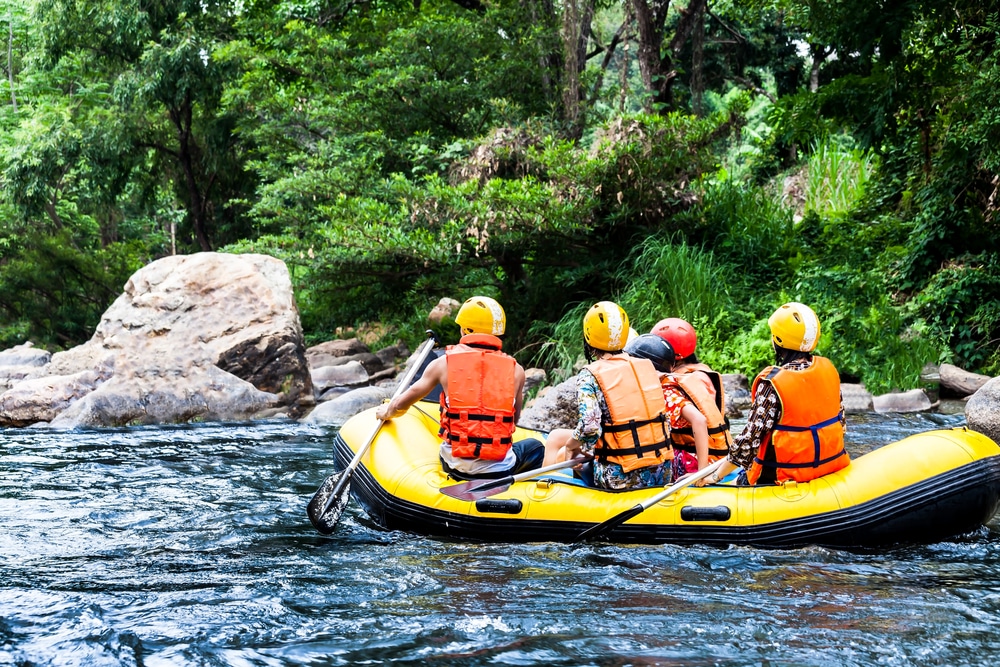 On your trip to the Deep Creek Lake area, you'll want to check out all the activities at the Adventure Sports Center International. The most popular choice is whitewater rafting on their mile-long manmade loop with a mix of mild and intense rapids on top of Wisp Mountain. In fact, Adventure Sports Center International is the only mountaintop whitewater course in world!
As a guest at our Deep Creek Lake Hotel, you'll be a mere five minutes from all of the fun at Adventure Sports Center International and Wisp Resort. Our boutique hotel is the perfect location right on the lake—it's serene and private—but all the while still very to close to all the other activities around town. You can't beat waking up here in the morning in summertime, the quiet, calm of the lake, the cool, crisp breeze that turns into the golden warmth of the day.
The Lake Pointe Inn is your best choice for luxury lodging on Deep Creek Lake. The Inn is designed in the traditional Arts and Crafts-style with high-end amenities and appointments. Our spacious guest suites offer many configurations for all kinds of getaways, be they romantic or more friendship-focused. Our sweeping lakefront grounds are the perfect place to spend a whole day lounging in the hammock, popping into the lake, and soaking up the Maryland sunshine.
Check our availability and book your next vacation with us today!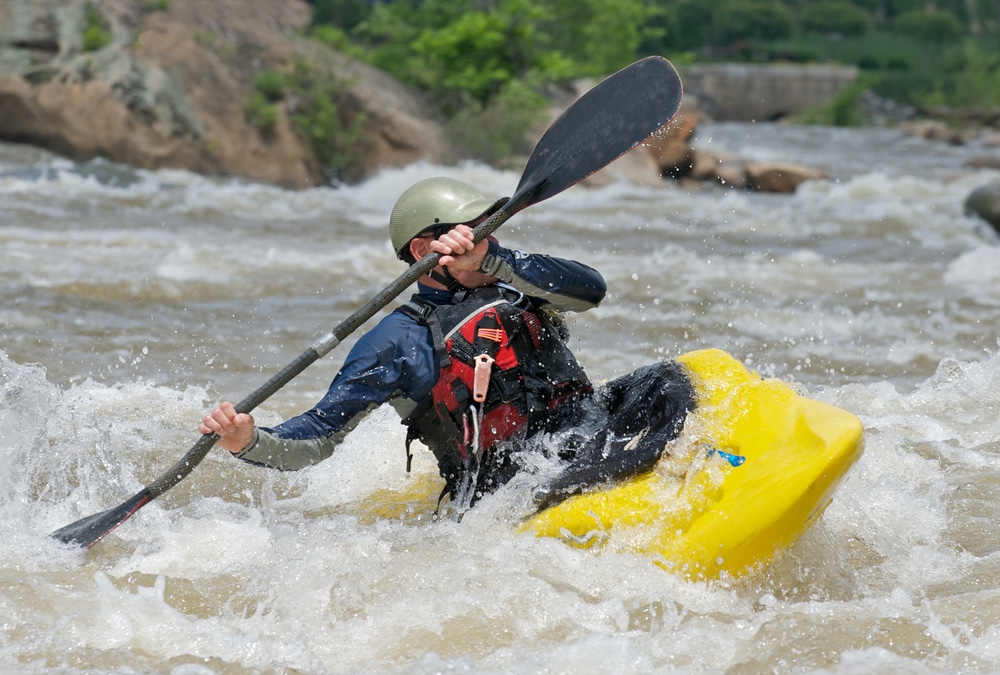 Come Enjoy the Adventure Sports Center International
As the world's only mountaintop whitewater rafting course, Adventure Sports Center International shouldn't be missed! They offer whitewater rafting excursions, of course, but if you'd rather try your hand at kayaking or canoeing the rapids they have that too. There are other activities as well right at Wisp Resort.
Here are five things to know about Adventure Sports Center International before you go:
The Adventure Sports Center International, also know as ASCI, has been operating on the mountaintop near Wisp Resort since 2007. It now hosts thousands and thousands of whitewater enthusiasts each year.
The 1,700 foot long whitewater course was designed by a team of architects familiar with building manmade waterways. The process uses natural boulders and concrete to create a lifelike effect of rapids found in the wild. Even though it's a fabricated loop, that doesn't mean it's not thrilling. There are great slopes, fast rapids, and curves for an exhilarating ride.
On a guided raft trip at the Adventure Sports Center International, you'll take the course anywhere from four to six times around, amounting to about a mile of rapids distance. The trip starts off with orientation with your guides to go over some safety measures and be prepared to get wet!
Private kayaks or canoes are more than welcome on the rapids at Adventure Sports Center International. All that's needed is your day or season pass, and all paddlers must check in and wear a bib for each run. For beginner paddlers and kayakers, the upper pond area is a great space to learn and feel a mild current. The ASCI kayak or canoe clinic is encouraged for those who are new to this water sport who are wanting to try the rapids.
There's more than just whitewater rafting and kayaking opportunities at Adventure Sports Center International. If you're interesting in rock climbing, Fork Run offers 35 to 50 foot tall sandstone climbing cliffs. Fork Run is about 10 minutes from ASCI campus and it's known as the most accessible climbing opportunities in all of Western Maryland. Beginners will enjoy testing their new skills and experienced climbers will be excited by the difficult routes.
Before you set out for your day at Adventure Sports Center International, be sure to join us in the dining room at our Deep Creek Lake Hotel for a hearty and delicious breakfast spread. We love to cook! We also like to make sure our guests are full and ready for all the adventures that await at Deep Creek Lake.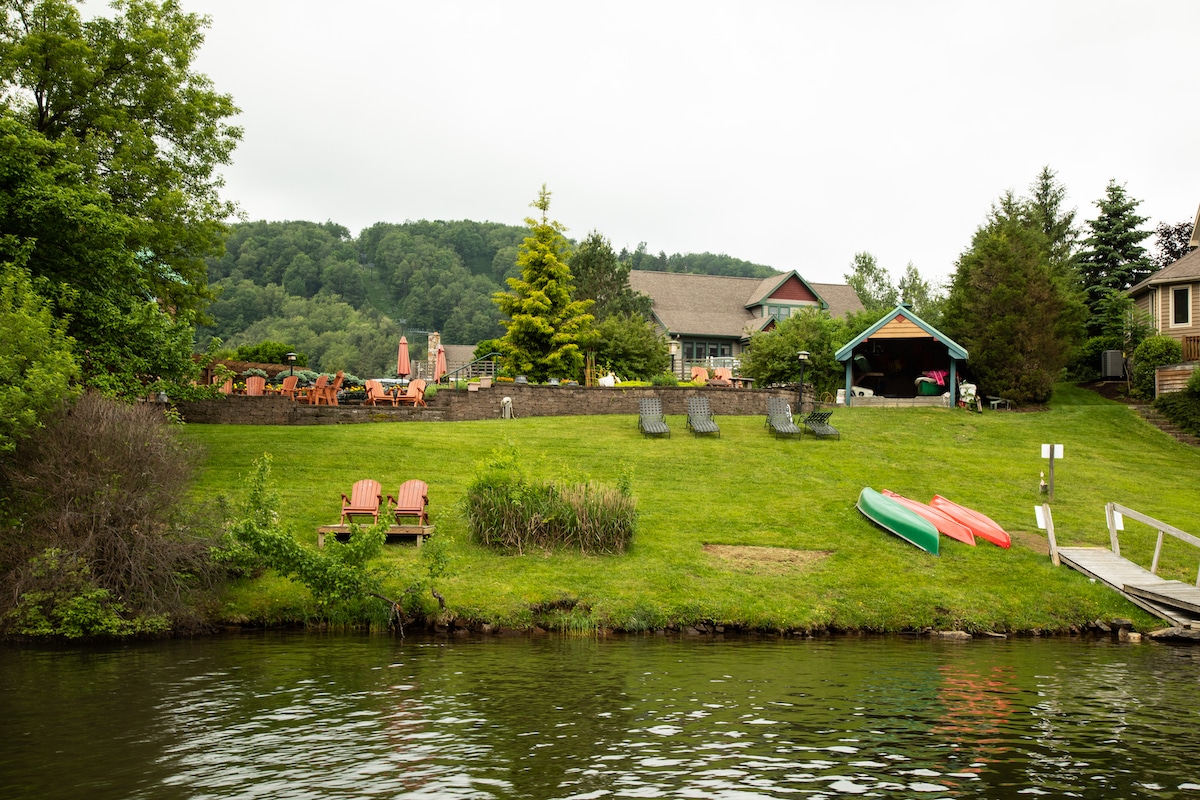 Amazing Lakefront Lodging at our Deep Creek Lake Hotel
Of course, the biggest draw to this area is the Lake. You seriously can't beat the location of our Deep Creek Lake Hotel. Not only do most of our guest rooms have a beautiful view of the water, you can just walk right out on our grand lawn, down to our private dock and dive right in. We also have canoes and kayaks for guests to use at their leisure. And ample space for picnics, bon fires, and relaxing in the sun.
After a long day outdoors, retreat back to our boutique hotel for an evening beverage on the deck or cozied up by the fireplace in the main common room. Voted our as "most charming" guest room, The McCann Suite offers two rooms with tasteful decor, a comfy king bed, fireplace, and private balcony with Adirondacks for taking in the lake views. This is a perfect choice for those wanting a romantic and private getaway to Deep Creek Lake. Book your next stay today!