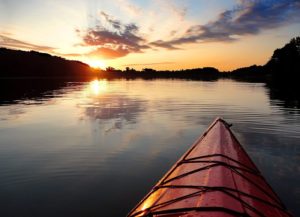 Guests of Lake Pointe Inn have a wide selection of fun activities to experience during their stay. With such a diverse range of activities and attractions, Deep Creek Lake has something for everybody. From boating on the lake to mountain coasting through the beautiful outdoors, these fun Deep Creek Lake activities will fill your itinerary with excursions for a fantastic getaway!
1. Boating
Each afternoon the Inn's 28-foot pontoon boat, Tight Squeeze, sets sail for a complimentary trip around the lake. If you'd rather Captain your own ship, rent a boat from Bill's Marine Rentals, Deep Creek Lake Boat Rentals, or Crystal Waters at the local marinas.
2. Canoeing & Kayaking
A fun way to explore the lake at a slower pace is in a kayak or canoe. This is one of our guests' favorite Deep Creek Lake activities. Use any of the Inn's kayaks and canoes at your own leisure and enjoy.
3. Golf
One popular pastime in the Deep Creek Lake area is golf. Get on the fairway early and enjoy a day of golf on one of the several courses Deep Creek has to offer. Oakland Golf Course is open to the public and provides you with a wonderful outing of golf on our beautiful, excellently maintained fairways and greens.
4. Wisp Resort Summer Mountain Activities
Looking for an adventure? The daring can leave behind the calm and relaxing lake and hit the wild rapids, zip done the side of the hill on a mountain coaster or glide through the trees on the Flying Squirrel Canopy. That's not all that Wisp Resort has to offer! You can find more heart pounding activities here.
5. Swimming
Grab your sunblock and your swimsuit and cool off in some of the best swimming spots in Maryland. Deep Creek Lake National Park, New Germany National Park and Harrington Manor National Park are all fantastic places to set up camp for the day and relax in the rays of sunshine. You'll enjoy these wonderful spots all summer long!
6. Biking
Enjoy all that nature has to offer slow cycling through the forest or spending down a trail on mountain bike. High Mountain Sports and Wisp are great for renting bikes and equipment.
7. Hiking
Strap on your hiking boots and hit the picturesque trails of Oakland. Cooper Rock State Park has hiking trails to use at your leisure. Trails vary in length from less than a mile up to 7, giving you the option to enjoy nature at your own pace. Many wildlife species make their home in this forest, so keep your eyes open!
8. Water Skiing & Wake Boarding
Hit the water on a wakeboard or on a pair of waterskies. You are sure to have a blast! Rent from a day up to a week at High Mountain Sports.
9. Horseback Riding
Mount a horse and gallop across the countryside of Pleasant Valley. Enjoy the summer air on a hayride or on your own horse drawn tour of the Miller Family Farm. Pleasant Valley Dream Rides has several equine-based Deep Creek Lake activities for everyone to partake in.
10. Rock Climbing
Make sure your line is secure and your helmet is fastened before you take on the task of climb some of Deep Creek's rock walls. ASCI will guide beginners and intermediates climbers around the natural boulders and ledges of the Fork Run Recreation Area. The basic program is two hours of climbing and rappelling.
With so many fun Deep Creek Activities to accomplish, make sure you have a place to rest and relax after. Recount your Deep Creek Lake adventures shot for shot around our fire pit or on the wrap-around deck with spectacular views of the lake. Our rooms and suites have cozy amenities l and comfy furnishings, ideal for relaxing after a memorable day of Deep Creek Lake activities. Before you leave for the day, we will serve you a hearty breakfast. Staying at Lake Pointe Inn will make your visit to the lake unforgettable!
Photo courtesy Kvhuegel via Wikimedia Commons.