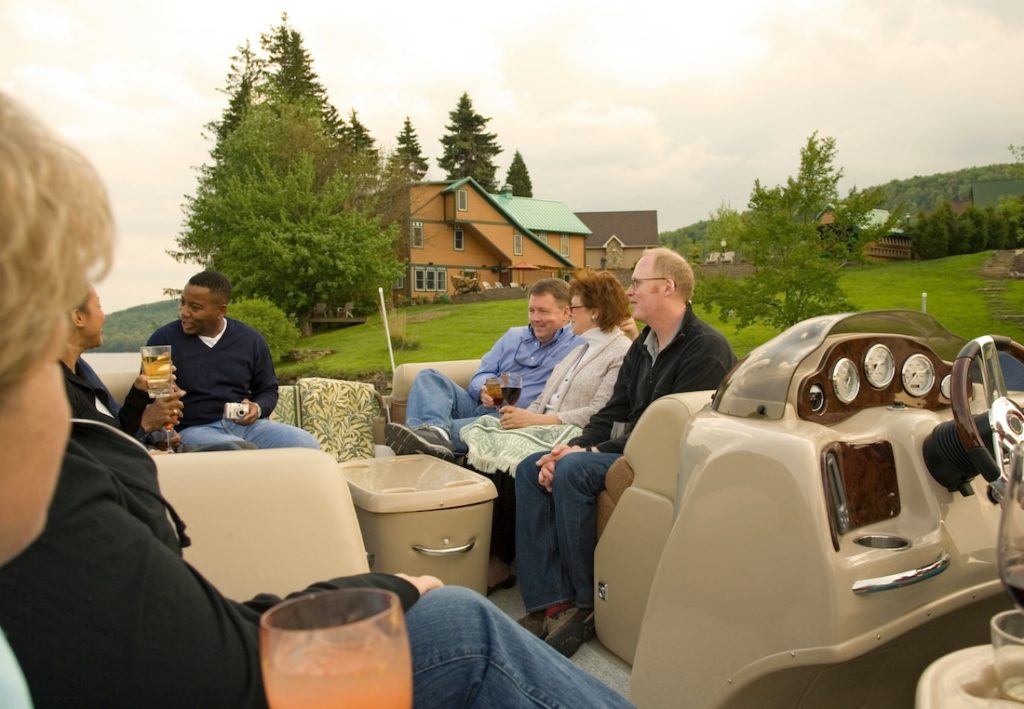 No trip to Deep Creek Lake is complete without visiting High Mountain Sports for gear rentals. The store is a four-season sporting goods retailer, and they cover everything from kayaks and paddleboards in the summer to ski and snowboard gear in the winter months. However, if you'd best like to enjoy the Lake, the experts at High Mountain Sports can get you set up for your adventure.
As a guest at our Deep Creek Lake Hotel, you'll have access to our kayaks and canoes to enjoy paddling on the Lake. But a visit to High Mountain Sports can get you set up for larger groups and daily excursions out on the Lake. From single to tandem kayaks, tube rentals, waterskis, and wakeboards, you'll be able to find everything you need for exploring the water and getting in some of that high-intensity action.
Lake Pointe Inn is the premier bed and breakfast-style boutique hotel directly located on the shores of Deep Creek Lake. You'll love our vicinity to all of the best things to do in the area and the relaxing and peaceful atmosphere our Inn exudes. Our ten guest rooms are unique with high-end furnishings, luxury amenities, and all the comfort measures you'll need for a fabulous stay. Be sure to book a massage at our on-site spa as well!
Start planning your next getaway to Deep Creek Lake and reserve your room today!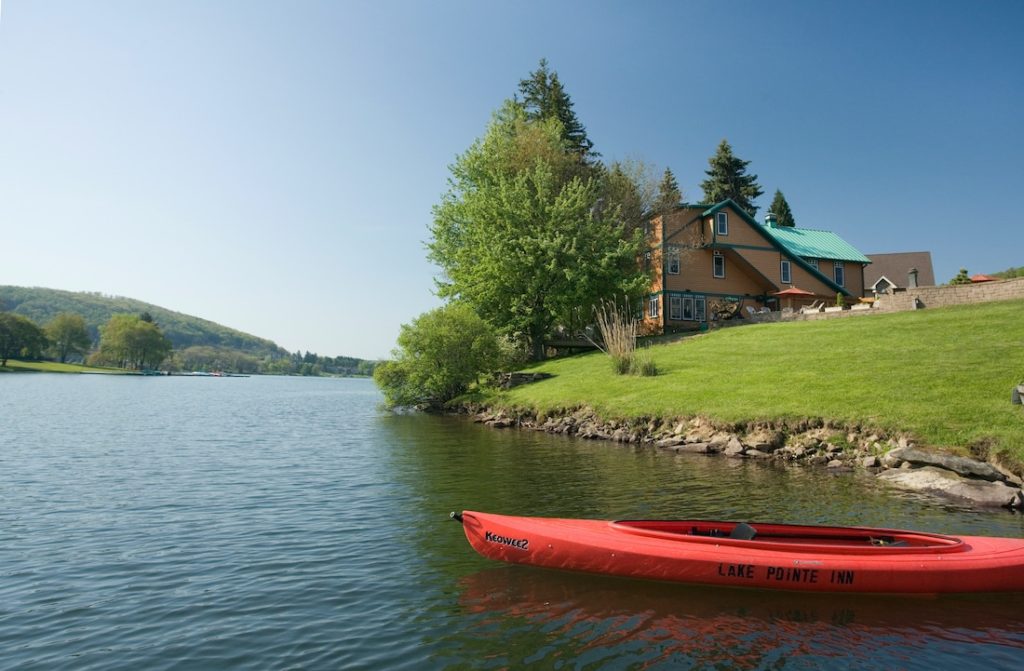 Deep Creek Lake Rentals from High Mountain Sports
The people that work and run High Mountain Sports are the experts in everything about outdoor recreation at Deep Creek Lake. The company was founded in 1987, and they've been outfitting tourists and locals alike for more than 30 years for the best adventures and Deep Creek boat rentals.
Here are the best things to do at Deep Creek Lake with rentals from High Mountain Sports:
Single and tandem kayaking: Gliding along the Lake is one of the best ways to take in the beautiful scenery of Deep Creek Lake. Guests can rent kayaks on an hourly basis or for multi-day passes.
Paddle Boards: For those interested in SUP (stand-up paddleboarding), you can grab your rentals at High Mountain Sports. It's a great workout, and you can rent by the hour or multi-day passes.
Tube Rentals, Water Skis, & Water boards: If you've got the speed boat figured out but don't have the other extreme sports gear, they've got you covered. Grab these fun activities for just one day and up to a week-long rental.
Pontoon Boat Tours: Welcome aboard the 25-foot pontoon boat captained by one of the experts at High Mountain Sports. On the one-hour tour, you can sit back, relax, and listen to stories about the area's history. There are two sailings daily at 1 pm and 3 pm. Make your reservation here.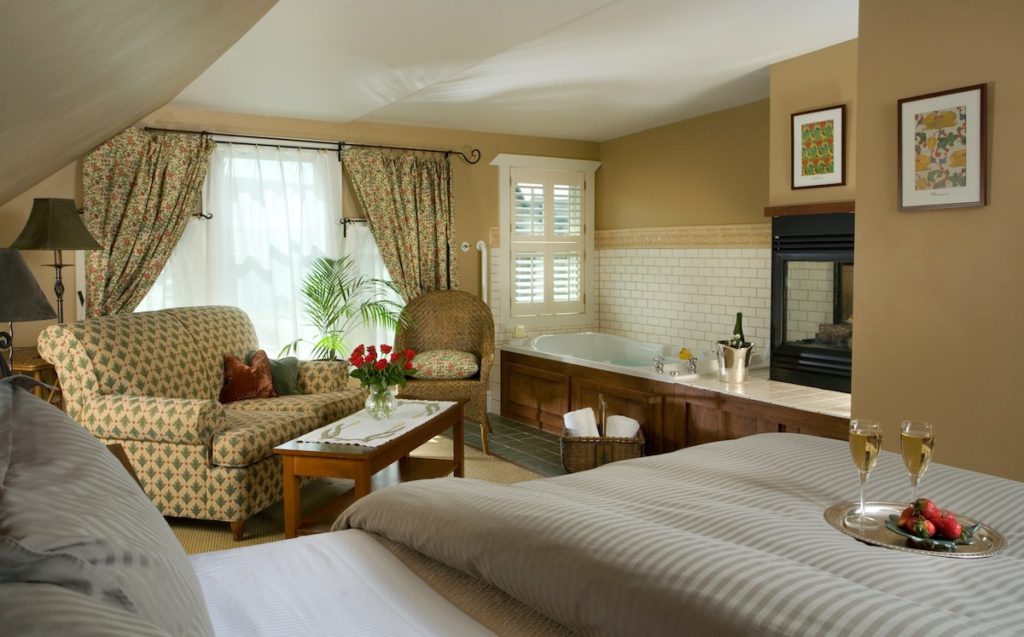 The Perfect Deep Creek Lake Bed and Breakfast
Arriving at Lake Pointe Inn on the shores of Deep Creek Lake is welcoming and warm. With more than 300 five-star reviews on Trip Advisor, sometimes the best way to know what to expect is to hear it from previous guests:
"This historic house is clean and beautiful, with every room decorated differently. Hospitality is outstanding. Staying in the Glotfelty Room on the second level, we had a beautiful view of the Lake and skiing mountain, three separate rooms (living room, bedroom, bathroom), a private balcony, and fireplace. They prepared an incredible breakfast with a list to choose from." Dec 2021
"Wow – talk about a luxury getaway. The hospitality was amazing. It says breakfast included, but that doesn't do it justice. You're served restaurant-style with lots of meal options. In addition, there is a wine and snack hour and unlimited chocolate chip cookies. On our way out, they handed us a "snack for the road," which were homemade muddy buddies, so good! We stayed in the Garrett room, which had an awesome fireplace and bathtub. Can't wait to go back and stay longer!"
We're honored to hear such lovely reviews from our past guests, and even more so, we can't wait to host these people again. Start planning your next adventure to Deep Creek Lake and book your next stay today!