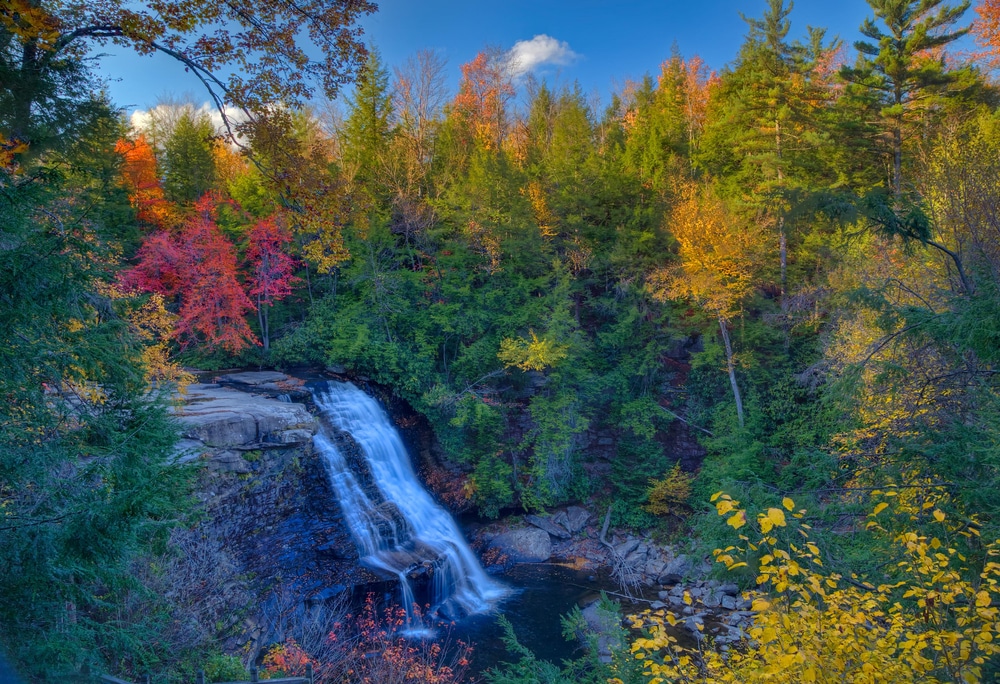 In the Autumn months in Maryland, the forests put on a show, and one of the best places to take in the beautiful fall foliage is at Swallow Falls State Park. This park is home to diverse wooded areas, waterfalls, and native plants and wildlife. Trails weave through and under these gorgeous glens. Spending a day out in the crisp Fall air is quite the feeling of serenity.
Hiking at Swallows Falls State Park in the fall is the perfect pastime. You'll still have the beautiful sunshine lighting up these bright hues of red, orange, and yellow, but there's a cool breeze and crispness to the air that only autumn brings. The refreshing spray from the Youghiogheny River also creates a temperate climate, its cascading waterfalls are a sight to behold.
As a guest at our Deep Creek Lake Hotel, you'll only be a quick scenic drive to Swallow Falls State Park. As always, join us for our amazing morning menu before heading out. We offer complimentary breakfast with many choices: from Dutch oven French toasts and frittatas to pulled pork tostadas to homemade nutty granola. Come sit at our table and take in all the splendor of Deep Creek Lake in autumn.
Check our availability and book your suite today!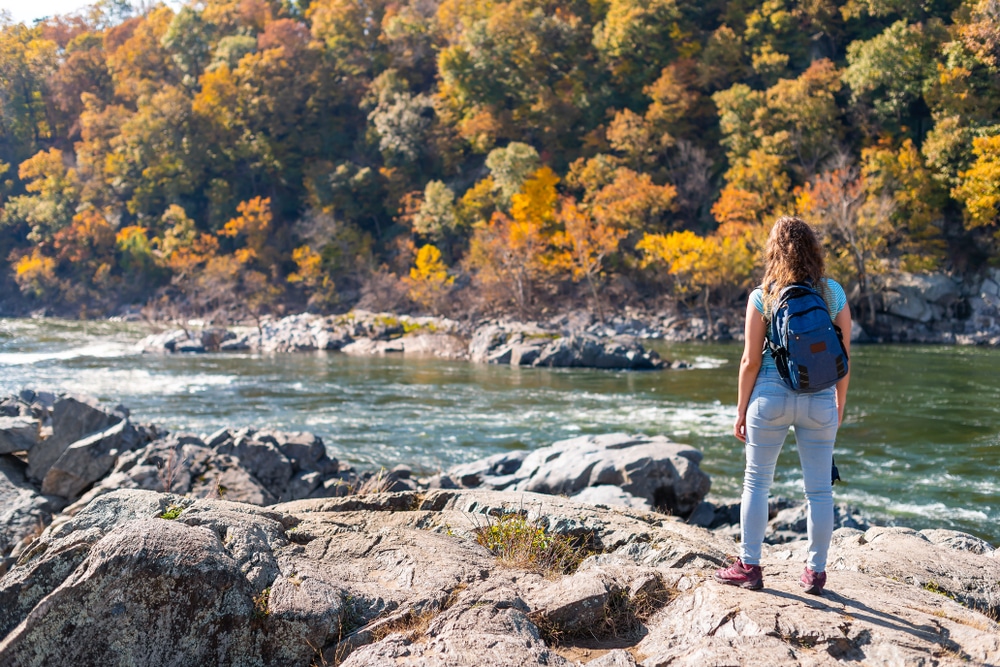 Take in the Fall Foliage at Swallow Falls State Park
While on your 20-minute jaunt to Swallow Falls State Park, you'll see some beautiful fall foliage framed by the windows of your car. This is a lovely sight, but you won't fully grasp the scope of these bright autumnal colors until you're on the trails at Swallow Falls State Park. Thankfully, there's so much to do here as well!
Here are the best things to do at Swallow Falls State Park not far from our Deep Creek Lake Hotel:
Check out Maryland's highest free-falling waterfall, the 53 foot Muddy Falls at Swallows Falls State Park. There's an easily traversed viewing area with a wooden plank ramp.
The Canyon Trail at Swallow Falls State Park is 1 and 1/4 mile through an old-growth forest of Hemlock Oaks (some more than 300 years old). While Hemlocks are in the conifer family and keep their green color year-round, this just enhances a beautiful pop of color from the deciduous varieties changing for the season.
There's a longer 5 and a 1/2 mile hiking trail for those really looking to stretch their legs. Mountain biking is encourage on this segment and you'll even find bike rentals at Swallow Falls State Park. This trail weaves through the Garrett State Forest and connects to Herrington Manor State Park.
The Youghiogheny River cuts through some of the most rugged countryside and mountain scenery in Maryland. While the river is rated as high difficulty for whitewater rafting, there are many guided opportunities for an exciting excursion on the wild waters.
Pack your waders and head to Swallow Falls State Park for some trout fishing. There's a four-mile stretch for catch and release along the Youghiogheny River. You'll find Rainbow and Brown Trout varieties.
There's a lovely picnic area at Swallow Falls State Park with a covered pavilion area with barbecues and tables. Grab a blanket, some sandwiches, and a bottle of wine for a post-hike celebration.
We're always happy to make suggestions and help with activities on your stay with us. Please let us know how we can be of service for you to best enjoy your time at our Deep Creek Lake Hotel.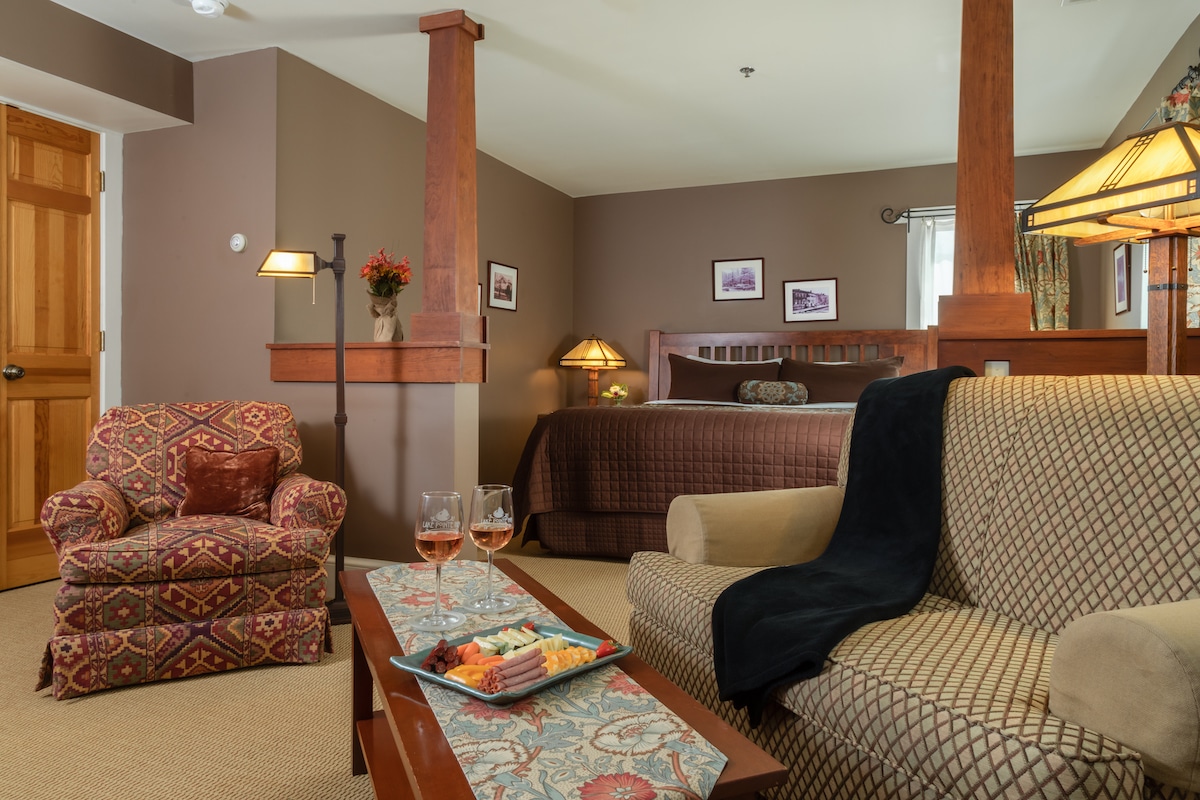 Comfortable Lodging at our Deep Creek Lake Hotel
The Arts and Craft design of our Deep Creek Lake Hotel brings a welcoming atmosphere to your stay here. You can just sink into a comfortable chair, put your feet up, and feel absolute calm wash over you. Our common areas are available for lounging by the warmth of the stunning river rock fireplace or our wrap-around porch for unparalleled views of Deep Creek Lake.
Each of our ten guest rooms at our Deep Creek Lake Hotel offers a unique layout and design. All contain a level of elegance and comfort that you won't find just anywhere. Our attention to detail from our luxury linens, high-end toiletries, and spacious arrangements make for one of the best stays in all of Maryland. Start planning your fall getaway and book your room today!