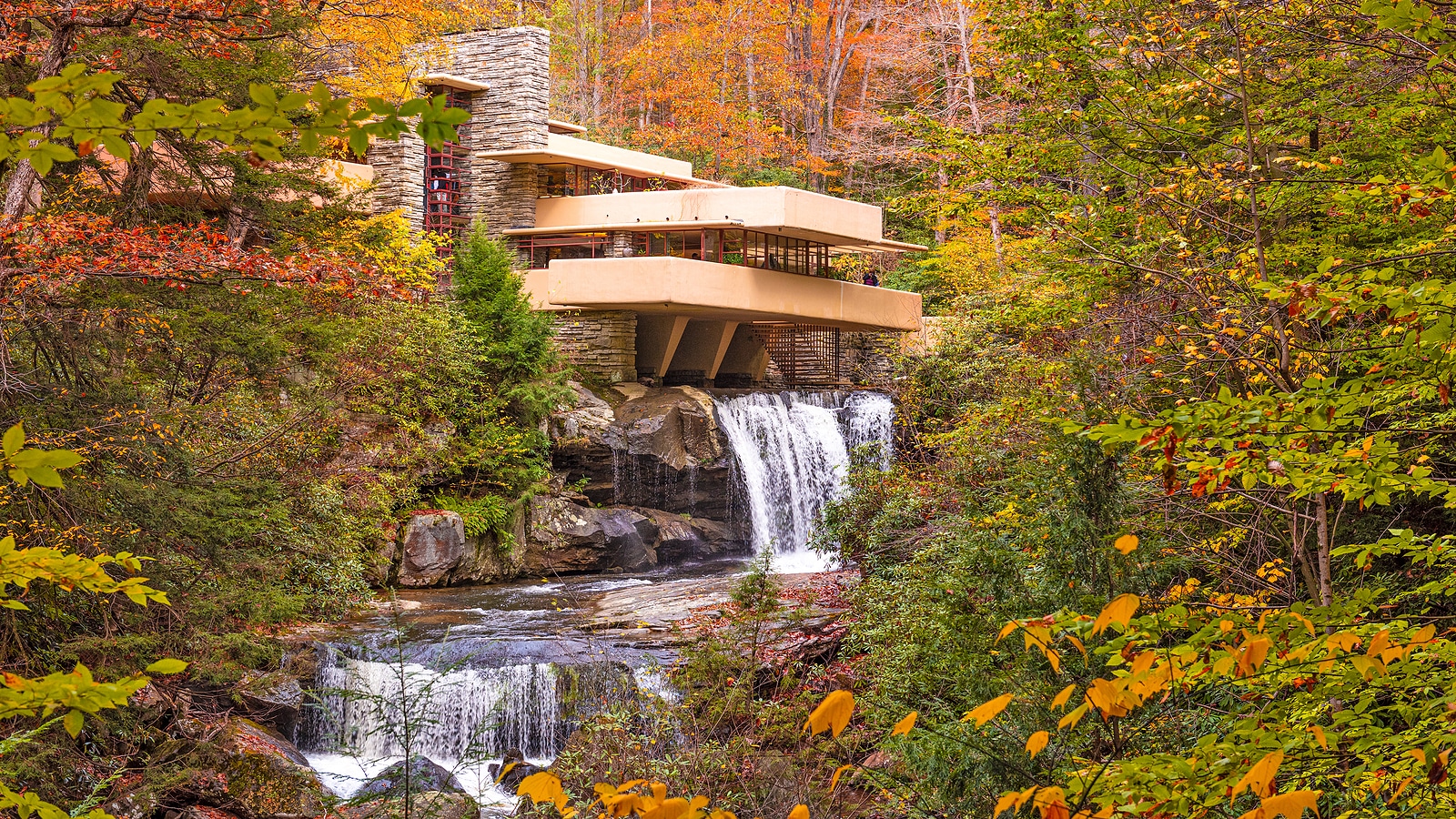 Frank Lloyd Wright Houses are stunning architectural masterpieces, two of which are located near our Deep Creek Lake Hotel. Frank Lloyd Wright was one of the most influential American architects. He designed over 1,000 buildings over his 70-year career, 500+ of which were actualized, and all of which sought to strike the perfect balance between the environment he was building in, and the humanity that would inhabit the space.
The style of Frank Lloyd Wright houses evolved over the years, mirroring society and his view of it. From the early Prairie-Style years to the later Usonian Style, Wright's design continued to place importance on functional elegance. If you're a fan of Frank Lloyd Wright's beautiful architectural style, then there are two stunning examples of Frank Lloyd Wright houses near our hotel that you should visit.
Our Deep Creek Lake Hotel, built and styled in the Arts and Crafts style itself, is the perfect place to stay while touring these homes and exploring the greater Deep Creek Lake area. Book your room at our Deep Creek Lake Hotel today!
2 Stunning Frank Lloyd Wright Houses Near Us
Though Frank Lloyd Wright was controversial in his day, through the lens of history he is now seen as a visionary of his time.  His works stand at the foundation of American modernist architecture, and he continues to influence the architectural world today. Two reminders of Frank Lloyd Wright's legacy stand just around 50 miles from our Inn; Kentuck Knob and Falling Water.
Kentuck Knob
Kentuck Knob, an example of Frank Lloyd Wright's later Usonian Style of architecture, is located in rural Pennsylvania about 45 minutes from our hotel. Kentuck Knob, built for Bernardine and I.N. Hagan in 1953 (completed in 1956), was one of the last designs completed by Frank Lloyd Wright. As per his Usonian style, Kentuck Knob was built as a small, one-story house, and designed to be affordable for the average American.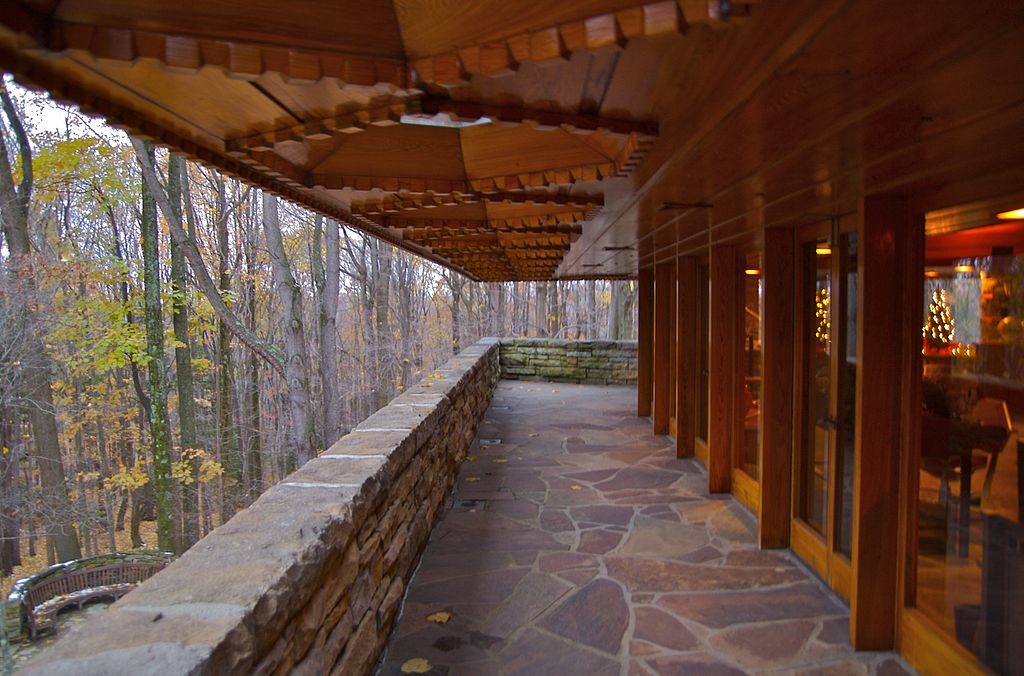 The house is situated overlooking the Youghiogheny River Gorge with the beautiful Laurel Highlands mountains behind. Wright designed to house to sit just below the top of a hill, which gives it the illusion of blending in its surroundings. This is, of course, one of the many geniuses of Frank Lloyd Wright Houses. The house features an open floor plan, cantilevered overhangs, and glass windows, which just adds to the feeling that the house is one with its surroundings.
Tours of Kentuck Knob are currently open for the remainder of the 2020 season, which include options for an In-Depth House Tour, a partial interior Walk-Through Tour, or a Woodland Walk grounds pass. Tickets are best purchased in advance, as sales are limited to encourage social distancing.
Falling Water
About 15 minutes further north from Kentuck Knob is another stunning example of Frank Lloyd Wright houses, Fallingwater. This is, perhaps, one of the most famous Frank Lloyd Wright houses still standing, apart from his sensational Taliesin, and is considered one of the greatest architectural triumphs of the 20th century. Since opening to the public in 1964, more than 5 million people have toured this home to gain a deeper understanding and appreciation of Frank Lloyd Wright's architectural style.
As with all Frank Lloyd Wright houses, the architectural style of Fallingwater is integral to the landscape that surrounds it. Here, the landscape of Bear Run and along the Lauren Hill Ridge where Fallingwater was constructed is dominated by ridges, plateaus, steep slopes, and dramatic gorges. It was the admiration of Bear Run's waterfalls that led to the decision to build the house, carefully cantilevered, directly over a waterfall.
The resulting architectural masterpiece is truly something that can only be enjoyed in person. Interior tours of this home aren't available, but tours – both guided and self-guided – of the beautiful grounds and extensive trails are.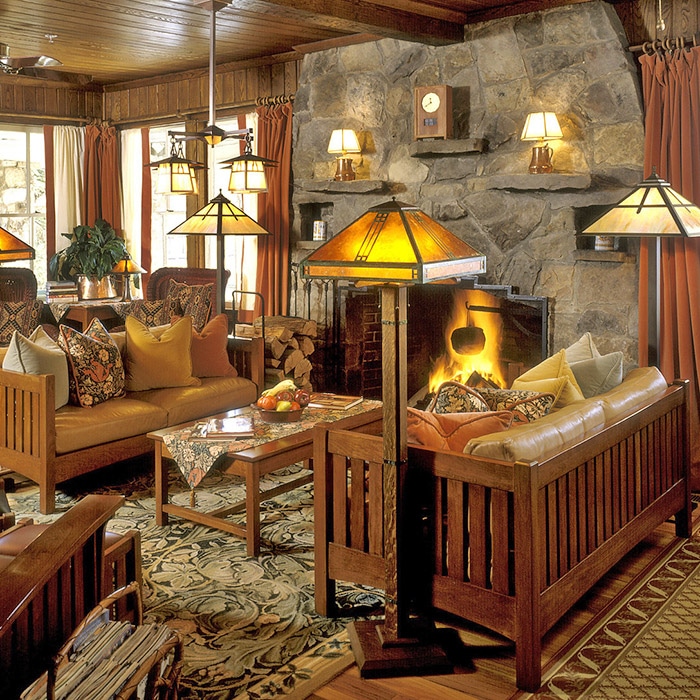 Stay at our Romantic Hotel on Deep Creek Lake
While visiting these incredible Frank Lloyd Wright houses, make sure you plan in plenty of downtime, so you can enjoy this ruggedly beautiful part of the country. Our hotel is situated on the shores of Deep Creek Lake near McHenry, Maryland. There's plenty of space to spread out here, to relax, unwind, and to forget about the stressors of everyday life.  There are just 10 guest rooms at our boutique hotel, which means an intimate retreat with smaller crowds.
Each morning of your stay, we'll gladly serve you one of the most delicious and hearty breakfasts you've ever had.  Breakfast, after all, is a fundamental part of the experience at our boutique hotel. Each morning, we offer up a generous selection of gourmet entrees, which is always preceded by delicious coffee and tea, baked courses like banana bread, and fresh fruit.  We're happy to cater to dietary restrictions as well, and always offer a selection of gluten-free, vegan, light, and hearty entrees. Book your room today! 
*The effects of the COVID-19 pandemic on businesses and attractions change frequently.  At the time of writing this blog, Kentuck Knob is open for indoor and outdoor tours, while Fallingwater is only open for outdoor tours.  Please check for up-to-date information if you intend to travel to Deep Creek Lake soon, and consider purchasing tickets in advance, to avoid disappointment.  The nature of these tours is subject to change.