There's never a shortage of things to do at Deep Creek Lake.  We're sad to be closed to our guests in the midst of the COVID-19 pandemic, but we're understanding of why we need to be.  However, we're ready to open back up as soon as it's safe to do so, and we're pretty sure you're ready to get away to somewhere quiet, different, and inescapably fun.
Our lakeside bed and breakfast, located on the beautiful shores of Deep Creek Lake, is exactly what you're looking for. Not only do we offer comfortable luxury accommodations and exceptional hospitality, but there are plenty of fun things to do at Deep Creek Lake in every season.  Summer is one of our favorites. Come experience our quiet lakeside retreat for yourself this year. Book a room at our Deep Creek Lake Bed and Breakfast today!
The Best Things to do at Deep Creek Lake This Summer
Deep Creek Lake, located just a few hours from several of the East Coast's major urban centers, is a fantastic 4-season destination. There's never a shortage of fun things to do at Deep Creek Lake. Whether you're looking to relax or get out and have fun adventures, it has something for everyone.
In the winter, there's great skiing across the street at Wisp Resort and cross country skiing and snowshoeing on the many local and regional trails. In the spring, we start to enjoy the rest of the activities that are available to us here, like hiking and biking. Come summer, it's warm enough to get out on the water for boating, fishing, canoeing, kayaking, and whitewater rafting. And, in the fall, foliage season arrives with its vibrant shades of red, orange, and yellow lighting up the forests around us.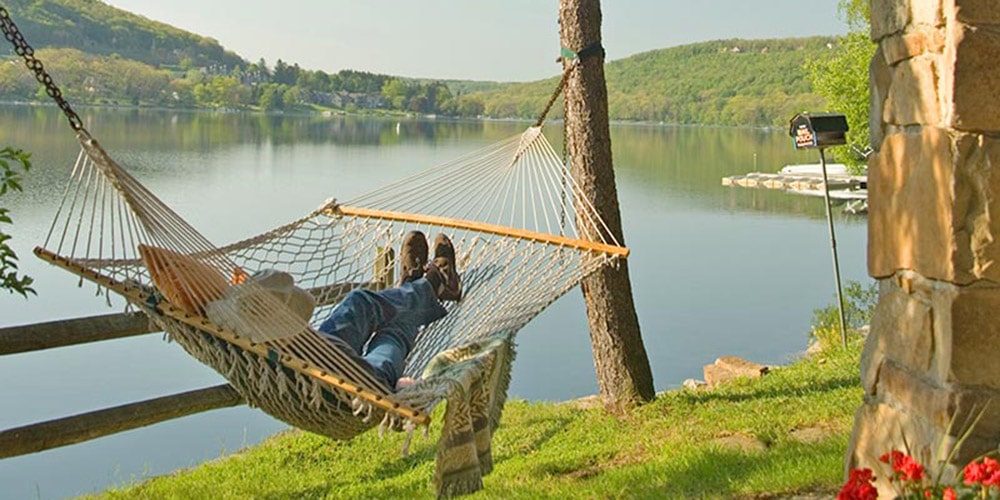 With so many great things to do at Deep Creek Lake, it's no wonder the area has become such a popular vacation destination. We can hardly wait to reopen our doors and welcome another great summer season filled with guests, laughter, and fun. It's time to start dreaming about the possibilities and start planning for the eventualities.  Here are our favorite things to do at Deep Creek Lake during the summer:
Discover the most beautiful hiking trails in the Deep Creek Lake area. Some of our favorite places to send guests are Blackwater Falls State Park, Coopers Rock State Forest, Dolly Sods Wilderness, and Herrington Manor State Park.  You can learn more about hiking in the area from our blog.
Go mountain biking!  Deep Creek Lake has become an increasingly popular place for mountain bikers, starting at Wisp Resort across the street. The Deep Creek Loop Trail is one of many popular trails in Deep Creek Lake State Park.
Visit Swallow Falls State Park, which is home to some truly breathtaking scenery. The Youghiogheny River travels through gorges in the park, creating Muddy Creek Falls, a 53-foot waterfall.
Canoe, kayak, or go boating on Deep Creek Lake itself. Our Inn offers guests complimentary use of our kayaks and canoes, and we also offer a complimentary ride every afternoon on our 28′ pontoon boat. There are also boat rentals available at nearby marinas.
Visit Adventure Sports Center International, which offers guided whitewater rafting trips around its man-made course. You can also kayak their rapids, which were the sight of the National Whitewater championships and the 2007 US Freestyle Nationals. Cheat Canyon is another great place to go whitewater rafting.
Attend the many great events in the area during these summer and early fall months.  Highlight events include the Garrett County Celtic Festival (sadly canceled for 2020, but ready for fun on June 5, 2021!), the SavageMan  Triathlon in September, and the Deep Creek Lake Art & Wine Festival, also in September.
Spend an afternoon golfing at the Wisp Resort Golf Course, just across the street. Golfstyles Magazine named this course one of the "100 Must-Play Courses of the Mid-Atlantic." The nearby Oakland Golf Course is also a challenging and delightful place to golf.
Enjoy a peaceful afternoon of fly fishing. The Deep Creek Lake area offers plenty of cold mountain rivers and streams in addition to the lake. There are 3 great guides in the area, including Bills Outdoor Center, DJ's Outdoor Adventures Unlimited, and Ken Penrod's Life Outdoors Unlimited.
Visit 2 examples of Frank Lloyd Wright's impressive architecture. Falling Water and Kentuck Knob are both easily reachable from our Inn, and make for a wonderful day trip.
Relax and unwind at our luxury Bed and Breakfast, overlooking scenic Deep Creek Lake.  Make sure to schedule in a massage or two for yourself, too!  You've definitely earned it.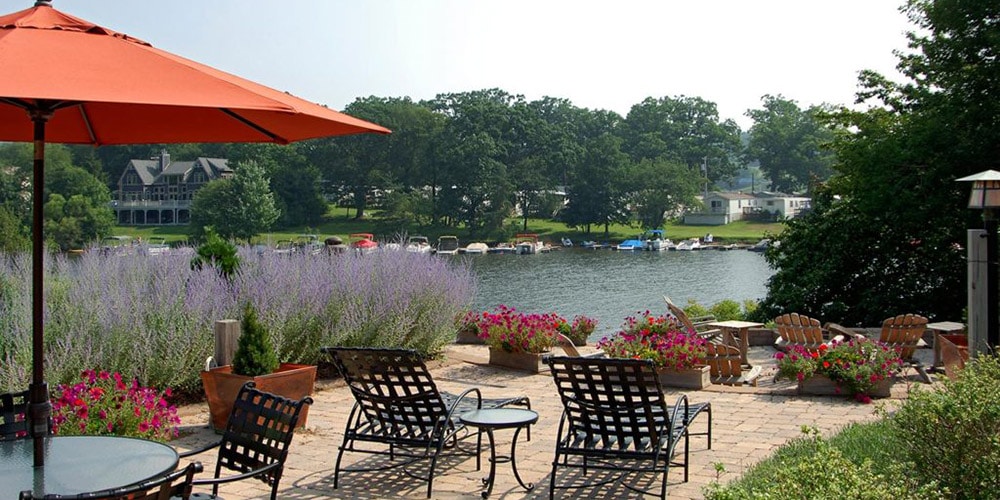 Stay at our Deep Creek Lake Bed and Breakfast
With so many things to do at Deep Creek Lake, it's an easy decision to visit during the summer. And when it comes time to choose where to stay, we hope we've made that decision just as easy. There's no other that offers the same luxury accommodations, welcoming hospitality, and fine amenities that you'll find at our Deep Creek Lake Bed and Breakfast. The choice is easy.  Book a room at our Deep Creek Lake Bed and Breakfast today!