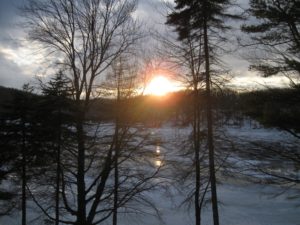 Deep Creek Lake has fun events to attend year-round, and things don't slow down in January.  When you're not on the ski slopes or basking in the luxurious amenities at Lake Pointe Inn, there are a number of things to occupy your time.  From whitewater exhibitions to concerts and celebrations, these January Deep Creek Lake events will make your visit a memorable one.
Whitewater Exhibition Wall at Wisp Resort
See the legacy unfold from the World Championships of 1989 held on the Savage River to 25 years later the Deep Creek 2014 ICF Canoe Slalom World Championships being held at the Adventure Sports Center International. Commemorative poster by Mark Stutzman was revealed for the first time on January 18  in a massive display.
Stone House Idol
January 25th
Do you think you have what it takes to be a singing sensation?  Head over to the Historic Stone House Restaurant and Country Inn to compete to become the next Stone House Idol in 2014! Tammy of DJ Blonde & Co. will get things going and a night full of competition will entertain. Starts January 25th and runs every Saturday until March 29th, 9 pm to 12 am.  Check for details and find out how to register here.
Stage Wisp Concert Series
Every Wednesday at Wisp Resort there is a live concert at Wispers Bar in the main lodge.  With drinks and live music in a cozy lodge setting, you can't go wrong.  The coming weeks' artists are:
Wednesday, Jan 22, 2014: Davisson Brothers Band
The Davisson Brothers Band blends country, southern rock, and bluegrass to create a distinctive sound captured in their first single, "Big City Hillbilly." The band has used this unique sound and their energy to gain a loyal fan base in the Eastern US.
Wednesday, Jan 29, 2014:The Terah Crawford Band
The Terah Crawford Band is an eclectic group of musicians who have come together with their unique skills and talents to form a new and captivating sound.
Happy 45th Birthday Honi Honi Bar
January 25, 2014
Deep Creek favorite, The Honi Honi Bar is celebrating it's 45th year. Make sure to go out and ce
lebrate the Honi's 45th birthday!  Special festivities includes birthday cake, drink specials and live entertainment by The Remedy, a popular local band.  The Remedy will be playing 8-11 pm.
Honi Honi Bar also has live music many nights. This month's performers include Brother Short and Campfire Gypsies.
Fitness Bootcamp at Deep Creek Fit
January 16, 2014 – January 27, 2014
If you're in the Deep Creek Lake area for a while and want to get fit, this bootcamp program is sure to get your heart pumping.  Each week includes a personal training session, a group workout, a group exercise class of your choice and a personalized nutrition program.  A grand prize package is also up for grabs – an great incentive to work hard! Find out more here.
With all the Deep Creek Lake events to take part in, it's important to have a relaxing space to unwind in at the end of the day, so make sure you book your stay at Lake Pointe Inn today. Our rooms and suites offer luxurious amenities and a gourmet breakfast to get your day started right.
Photo courtesy of Claire P.