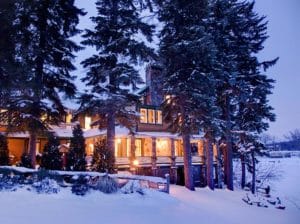 Wisp Resort, located across the street from our Bed and Breakfast near Deep Creek Lake, is Maryland's premier destination for downhill skiers and snowboarders. Given its incredible popularity and proximity to the Lake Pointe Inn, it's never too soon to start talking about ski season. In fact, Wisp has estimated that opening day for the 2019-2020 season will be December 14, 2019. Needless to say, all things snow is certainly on our minds.
The Lake Pointe Inn Bed and Breakfast is located directly across the street from this incredible ski hill, and only a few hours from cities like Washington D.C., Philadelphia, and Baltimore. It's the perfect getaway destination this winter, and now is the time to start planning!  Get your tickets for the season, and then make your reservations at our incredible Deep Creek Lake Bed and Breakfast.
2019-2020 Ski Season at Wisp Resort in Maryland
While the emphasis at Wisp Resort is still all about scenic fall chairlift rides, we're can't help but dream of the upcoming ski season for 2019-2020. We're lucky to have such a great ski hill so close by. Wisp Resort boasts an incredible 34 slopes and a 700-foot vertical drop, along with snow tubing, cross country skiing, snowshoeing, dining, and shopping. This charming ski resort has been in business since 1955, and has increasingly expanded its offerings and grown into the four-season destination it is today. If you haven't yet skied the slopes of Wisp, this year is the perfect time to try.
Wisp Resort's estimated opening day is currently December 14, 2019, but that is subject to change depending on conditions. Either way, that's really not too far away. It's time to get out your calendars and start planning! Season Passes for the 2019-2020 ski season at Wisp Resort are currently being offered at discounted prices, but full-price passes kick in soon! The prices are set to increase on September 23, 2019!  Buy your tickets to Wisp today, and lock up an exceptionally good deal on some of the best skiing in Maryland.
If you can't commit to a whole season of skiing, there are still plenty of ways to stay and have some wintry fun. For the best deals, consider visiting us during the middle of the week. Not only will you enjoy fewer crowds and lines on the ski runs themselves, but you'll also be able to take advantage of incredible midweek savings.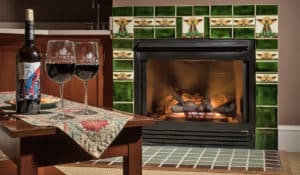 Rest Your Legs at our Deep Creek Lake Bed and Breakfast
Once you have those tickets in hand, you'll want to start making reservations for lodging in the area, too. For that, there's nowhere better than the Lake Point Inn, located on the beautiful shores of Deep Creek Lake. Skiing or snowboarding can be pretty hard on your legs and body. After a long day on the ski hills, return to the luxurious guest rooms at Lake Pointe Inn for a little pampering, rest, and relaxation.
How does a hot stone massage sound? We offer massages by appointment in our relaxing massage room. We also have a sauna, which is the perfect place to unwind after a long day on the slopes. If you'd rather enjoy some quiet downtime, take to the comfort of our private luxury suite, and enjoy the evening curled up in front of our gas fireplaces. Each guest room at our Bed and Breakfast has a gas fireplace for exactly this reason! The luxury amenities at the Lake Pointe Inn are unbeatable and will be a welcome respite after a cold day in the snow.
In the meantime, while we wait for the snow to fly at Wisp Resort, come take a scenic fall chairlift ride and enjoy the area's extraordinary fall foliage. Stay with us at the Lake Pointe Inn on Deep Creek Lake. Book your room today!