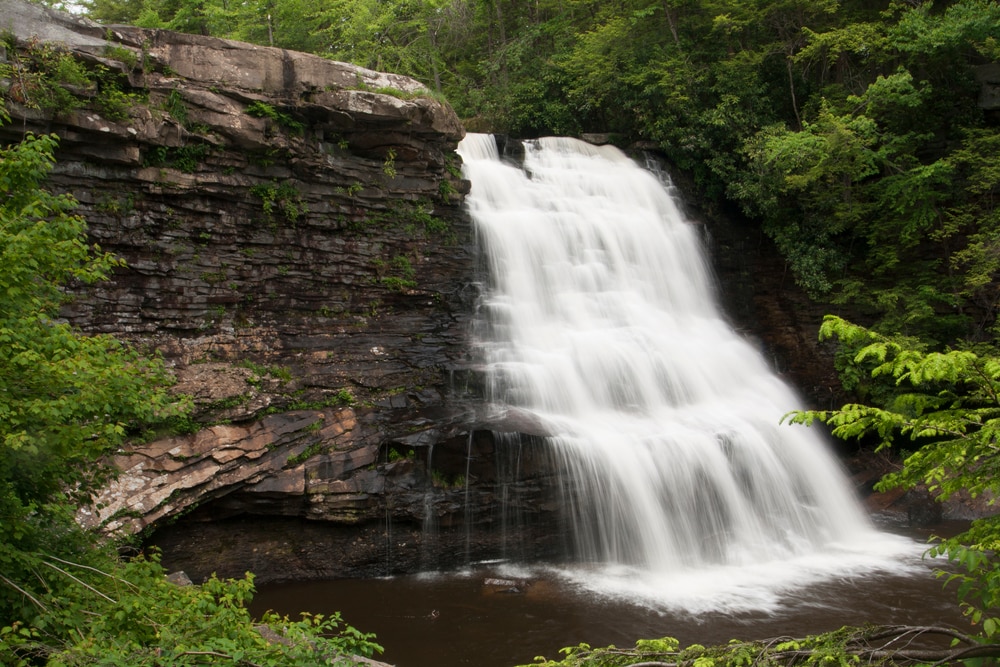 If you want to take in the beautiful Maryland scenery, Swallow Falls State Park is the place to see it, anything from cascading waterfalls and rushing rivers to lush woodlands and towering forests. It's a popular destination for hiking, biking, picnicking, and fishing. The Youghiogheny River borders the park and flows through rocky gorges, creating rapids and swimming holes. And the forest of tall hemlocks is quiet and shady—perfect for those warm summer days. The park's crowning jewel is Muddy Creek Falls, a 53-foot waterfall worth the visit every time.
As a guest at our Deep Creek Lake Bed and Breakfast, you'll be a quick 15-minute scenic drive to Swallow Falls State Park. It's a destination we always recommend to our guests hoping to explore the stunning wilderness of this area. Thankfully, our Inn is nestled on a private and quiet part of Deep Creek Lake with rolling green lawns, manicured gardens, and small wooded patches. You'll be in the best place to soak up the sun, enjoy the water, and relax on your next getaway. Inside, our guest rooms are luxurious, with all the amenities needed to unwind and reset.
Start planning a vacation with us before the end of summer. Book today!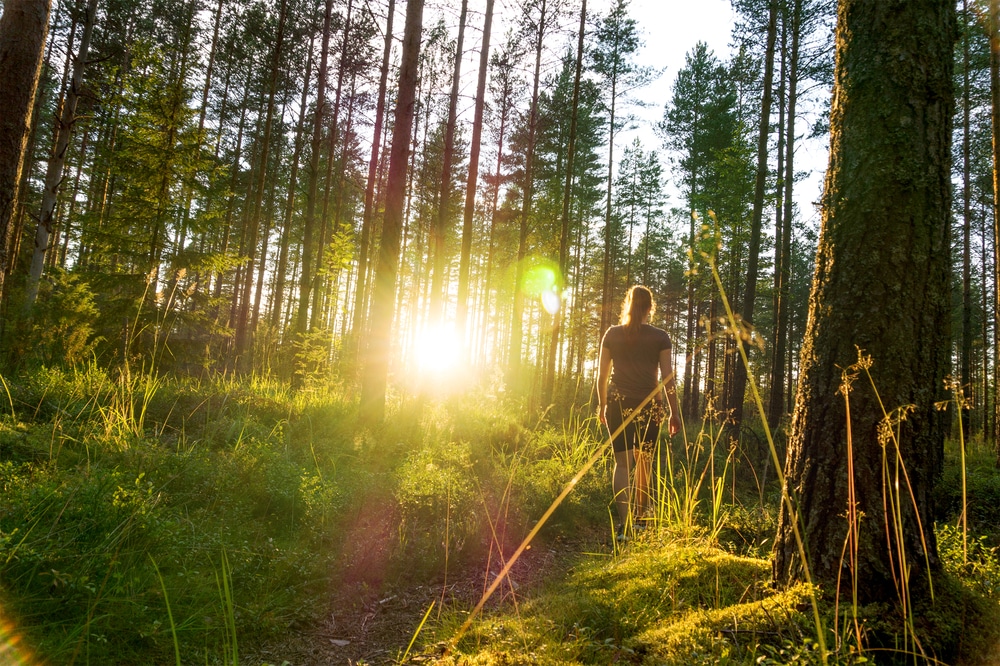 Head to Swallow Falls State Park this Summer
Here are five things to know about Swallow Falls State Park before you go:
History of Swallow Falls State Park: This area had three famous visitors walk its paths: Henry Ford, Thomas Edison, and Harvey Firestone. They set up camp together in 1921 at what's now named Swallow Falls State Park. Some say the attention these travelers brought to the area spurred others to work toward forest conservation and to create pubic natural spaces for all to enjoy.
The Wild Youghiogheny River: As one of the only officially designated Wild and Scenic Rivers, the Youghiogheny starts from the western slope of the Appalachian Mountains and covers nearly 400 miles in Maryland. Within Swallow Falls State Park, you'll notice the river is an integral part of the ecosystem and displays severe elevation changes creating falls and rapids.
Spectacular Flora and Fauna: You'll find one of the oldest groves of white pine and eastern hemlock in Maryland in Swallow Falls State Park. The tall hemlocks, some more than 300 years old, tower over park visitors and remind them of medieval European forestry. To fully experience these impressive hemlocks, take the 5.5-mile trail from Swallow Falls State Park through Garrett State Forest to Herrington Manor State Park. Along the trails, keep your eyes and ears open for birds and wildlife which call the park home.
Muddy Creek Falls: Known as the iconic landmark of this park, Muddy Creek Falls is much taller than the other two falls in the area: Tolliver Falls and Swallow Falls. It cascades down 53 feet from above; be sure to see it from the wooden viewpoint platform and from below to get the whole picture.
Tolliver Falls: This more modest waterfall in Swallow Falls State Park is an excellent destination for swimming. The falls clock in at about five feet tall and offer a large pool for wading and swimming with sandy shores.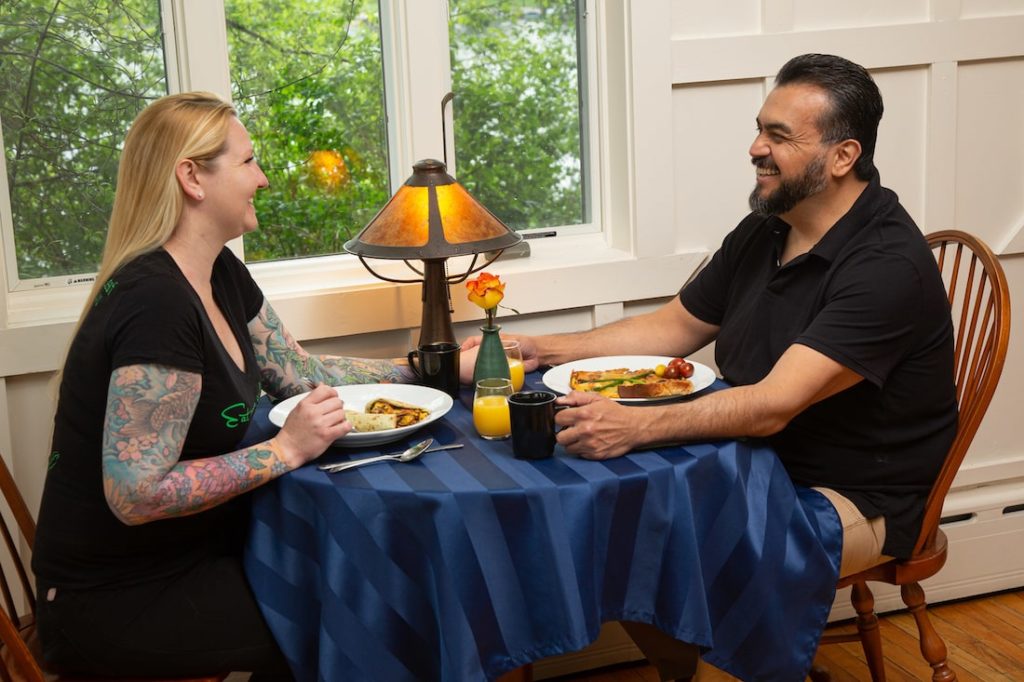 Best Breakfast in Deep Creek Lake at our B&B
Before you embark on your adventures to Swallow Falls State Park or the other natural areas nearby, joining us for breakfast is a must! Our homemade three-course morning meal always starts with baked bread or muffins, followed by a fruit course and then an entree of your choosing. We believe in choices, so you'll have your pick from sweet and savory options. Two favorites are the sourdough waffles (made from our starter!) and the almost world-famous Frittata. Of course, everything is accompanied by freshly brewed coffee (our very own LPI blend), teas, and juices.
It's the best way to start every day of your stay!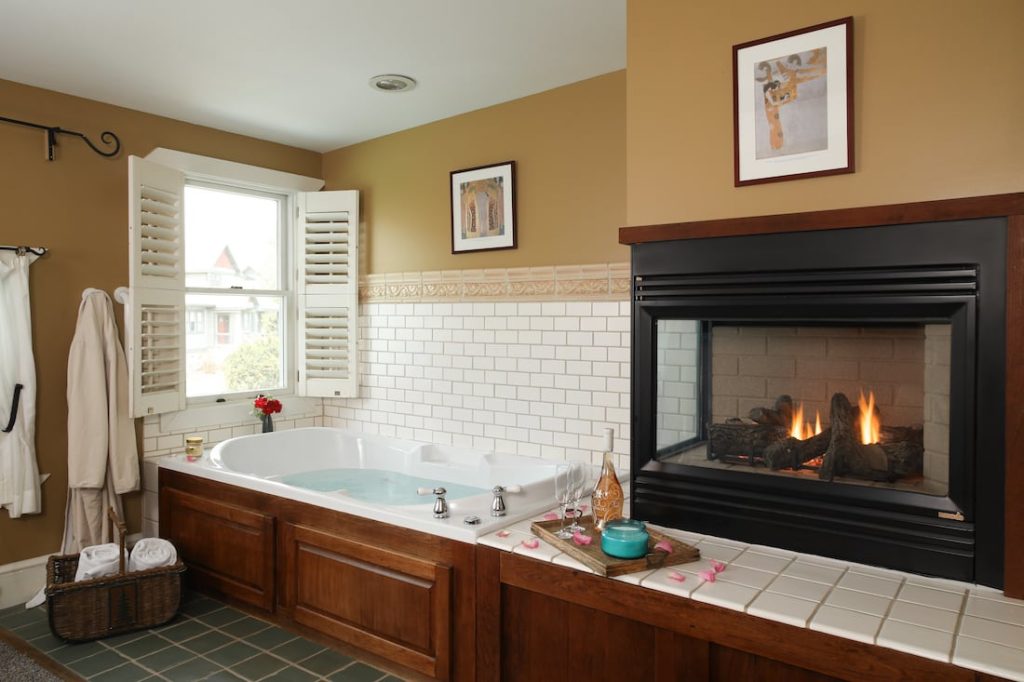 Luxury Lodging on Deep Creek Lake
After your day hiking at Swallow Falls State Park, returning to your guest suite is the most welcome reprieve. If you're still energized from your time in the woods, take out one of our kayaks for a sunset paddle or play a round of croquet on our grassy lawn. Or, if you're perfectly exhausted, retreat to your room, and enjoy a steam shower or a soak in your jacuzzi tub (three of our suites have both). The next day is best spent in the Spa. Plan and book your hot stone or Swedish massage for the next morning and start your day refreshed and ready to go all over again.
Check our availability and stay at the best Deep Creek Lake hotel for your next outdoor adventure getaway!